About Elad vazana
Tourism guide for social change
Program development and Leadership Trainer
Mediation and Dialogue Facilitator
---
I chose to study and lead tours in this land because the wonderful places and people here fascinate me. I love to discover and meet them, to remember each time anew how diverse and complex life is, To uncover the wonderful riches and creativity that lie within us, and to bring together people and culture in order to learn about life from diverse perspectives and make the "other" more human in our eyes.
I grew up in the development town of Ofakim. There I learned about the simplicity and human warmth of people.
I went to school at Sde Boker Academy where I learned to fall in love with nature and to live with it in peace.
I was a tank commander in the army, I fought in Lebanon and in the territories and I learned about the pain and suffering that war brings.
I traveled the world for 3 years and I discovered that we are not the center of the world and there are as many points of view as there are living people.
I founded a successful high-tech company and left after two years because I wanted to work with people and not with computer screens.
Since then I've devoted my life to connecting people from diverse backgrounds and cultures and to remembering that the "other" is a human being whose story is rich and as complex, like ours.
A turning point in my dedication and ability to help people engage was the  2006 Palestinian-Jewish Family Peacemakers Camp in California.  It was co-created by Camp Tawonga and facilitators from the Jewish-Palestinian Living Room Dialogue in California, with which I remain partnered to this day. Their practices and skill-building tools continue to inspire me.
I've been active for the past 13 years as a group facilitator for personal empowerment, social action groups and mediation. I facilitate multicultural get togethers, group bonding activities, and team building, I develop programs and curricula and give alternative guided tours.
I was a leader in organizations that work to build peace and understanding, facilitate and lead events between people from diverse cultures, backgrounds and religions in Israel and in the world, lecture on multimedia, pre-school teacher and radio show host.
In my work I integrate many areas that I learned and developed: Participation in life stories and music, guided visualization, challenging activities, participation in current science and history, movement and song, artistic creation, simulations and more...From these emerges a wide reaching experience where insights arise from collaborative experiences.
You are invited to read about the Tours and workshops that I offer to organized groups and to the public.
Press, Reports & Works
---
Masa - Masar 2016 report
---
 מורי דרך כגשר בין בני אדם
TOUR GUIDES AS A BRIDGE BETWEEN HUMANS
مرشدون سياحيين كجسر بين الناس
A report of the December 14th 2015 Gathering of Israelis and Palestinians Tour guides
---
Middle East Tours
to experience multiple narratives
of diverse people, places, and faiths 
---
DAR A CARA
Um miúdo algemado e um sonho em que se viu criança em Portugal levaram o ex-soldado a unir israelitas e palestinianos num projecto de perdão. Contou-nos a história por Skype e este é um texto na primeira pessoa. Por Margarida Santos Lopes
Read more
---
"I am responsible for creating change. Once I start working and stop sitting around complaining, that's when significant change will occur."  Read more
---
Massa-Masar-("Journey") Program
May 7-11 / 2015
A group of 30 Jewish, Muslim and Christian teenagers on a 4-day
Journey to visit and learn together about Israel's diverse
communities...
Read more
---
Life Stories as an Intercultural Human Bridge
2011 Report
2012 Report
2013 Report
---
 מסע - مسار - Journey  
A Leadership Workshop-empowering the young leaders of today
December 14-15-16 / 2012
Read more
---
A Story of Diverse Citizens
by : Libby and Len Traubman
Read more
---
Leadership Training Seminar for Young Leaders
Israel – Palestine – Jordan March  17 - 21   2010
Read more
---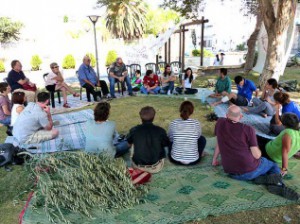 Acre, Summer 2008 uprisings, establishment of peace tent
initiation, team definition and conducting of multi-cultural dialog meetings. 
Read more
---
To my father.
An art work which was presented in an exhibition on Environmental Justice in Musrara, Jerusalem.
Read more
---